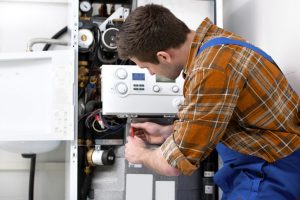 At plumbing services Dublin gas boiler repair is one of the most common jobs we carry out. A good normal rule of thumb for the lifespan of a well taken care of boiler would be 13-16 years. During this time there would normally be one of more parts that need replacing. When this occurs, you are advised to look for a boiler repair expert.
We are renowned experts in gas boiler repair
Plumbing services Dublin have been repairing boilers both gas and oil throughout the county for well over  thirty years now. During this time we have worked on more or less every type of domestic, commercial and industrial boiler that has been manufactured. As all of our boiler repair experts are R.G.I. accredited you needn't worry about whether we can work with all natural gas appliances.
Gas boiler repair at reasonable prices
Unlike some companies, we never  charge you for traveling to your property. Neither do we apply a fee for traveling to collect parts if they are required. As we deal with all the major plumbing suppliers throughout Dublin and have been doing so for many years we always know where to get the best prices. This means it won't matter if it's a new heat exchanger, expansion vessel or P.C.B. board that you need, we can also get it the cheapest. We will always be happy to provide a free quote on any job and without obligation. We like to think that we are unusually transparent in our pricing. We give a price and that won't change. We are fully insured and all of the work we complete carries our standard 1-year plumber services Dublin parts and labor guarantee for your extra peace of mind.
 emergency gas boiler repair
Our emergency boiler repair crew operate a 24/7 rota. This means whenever you call it doesn't if it's the morning evening or weekend. We will always be ready to assist you and get your heating and hot water functioning again for you.
For a free quote, If you have an emergency or for expert advice on any problem don't panic. Call one of our experts on 01-6874852.